Featured Vacation Rental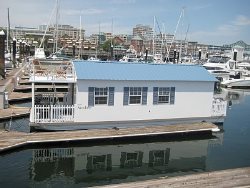 Lyra Houseboat Rental; Unforgettable Waterfront Vacation Rental!
Have a boat or property you think would be a great fit with our program? Check out the FAQ's under our Info For Owners Tab and call us today 413-652-1400 or email [email protected]
Perfect Getaway. Close to all of the shops and restaurants of Las Olas! Come stay aboard these BRAND NEW houseboats, berthed in the "Venice of America"! Only a few hundred feet from fashionable and chic Las Olas Blvd., Jubilee and Totally On Board are located in a fabulous marina with private courtyardl. We are only a short walk or bike ride to the beach and the world famous Elbo Room!
Beautifully Appointed 2 Bedroom Houseboat!

Come stay aboard this super cool houseboat, berthed in the "Venice of America"!, La Dolce Vita is located just off Las Olas Blvd. We ar......

Property Code: Fort Lauderdale - La Dolce Vita

Bedrooms: 2 | Bathrooms: 1 | Max Occupancy: 6

Location: Fort Lauderdale

Pets Allowed: Yes