Featured Vacation Rental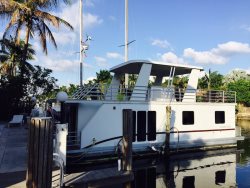 Beautifully Appointed 2 Bedroom Houseboat!
Have a boat or property you think would be a great fit with our program? Check out the FAQ's under our Info For Owners Tab and call us today 413-652-1400 or email [email protected]
This houseboat is located in the up and coming East Boston Neighborhood of Boston. It is minutes away from the airport, and dozens of great restaurants and shops. There is a grocery store less than a half mile away, and a convenience store on the corner. As mentioned above, we offer a free water taxi service to the guests of our boats (normally $15pp each way) into Rowes Wharf in Downtown Boston. This quick 10 minute ride puts you right in the center of all there is to do in Boston. This stop drops you at the Aquarium, Fanueil Hall/Quincy Market and the North End. Our location in the actual working port of Boston affords our guests the unique perspective of the historic Boston Shipping Trade in action. Watch the drawbridge open from your roof deck as barges and tugboats pass by, supplying Boston and the Northeast with the needed commodities for commerce!
Andromeda Houseboat Rental - Perfect for Families!

Unique Accommodations with Waterfront Views. Experience Boston from the unique perspective of your own floating house! Nestled in a protected marin......

Property Code: Boston - Andromeda

Bedrooms: 1 | Bathrooms: 1 | Max Occupancy: 6

Location: Boston

Pets Allowed: Yes
Lyra Houseboat Rental; Unforgettable Waterfront Vacation Rental!

Unique Accommodations with Waterfront Views. Experience Boston from the unique perspective of your own floating house! Nestled in a protected marin......

Property Code: Boston - Lyra

Bedrooms: 1 | Bathrooms: 1 | Max Occupancy: 6

Location: Boston

Pets Allowed: Yes