Featured Vacation Rental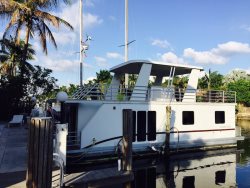 Beautifully Appointed 2 Bedroom Houseboat!
Have a boat or property you think would be a great fit with our program? Check out the FAQ's under our Info For Owners Tab and call us today 413-652-1400 or email [email protected]
Why Stay With Rock On Rentals?
A cramped hotel room or a spacious yacht? A rude front desk clerk or friendly hello from a neighbor? A noisy ice maker or the sounds of the water lapping at the hull? A ... well, you get the idea. We've all experienced the former, now you should experience the latter. When was the last time you were excited about where you were staying overnight? We aim to make our accommodations as much of an experience as your destination itself!
Vacation rentals often cost half as much as hotels, have full kitchens, allow pets, and let you experience the area like a local.
We have listings for every taste and lifestyle. Whether you are traveling on a budget, with your family, or want to splurge on an over the top stay. Whatever your choice, we guarantee you will have the experience of a lifetime.
You can rent with confidence knowing that we stand behind every property we represent! We have managers on site and on call 24/7. You can trust that if you run into an issue during your stay we will address it promptly and professionally.
We carefully select every vacation rental we offer, and inspect them frequently to make sure they uphold our high standards.
We understand that renting a vacation rental is a bit of a leap of faith as there are no universal standards in this developing market. Our goal is to set standard of excellence in the industry, and we welcome any feedback you may have regarding your stay. Each property has a welcome book with information about the property and the area. This book also has the direct cell phone number for Ryan, the owner of Rock On Rentals. You can be assured that your voice will be heard, and any feedback goes straight to the top.
Check out our current listings for pricing and availability. We look forward to showing you the new standard in overnight accommodations!