Featured Vacation Rental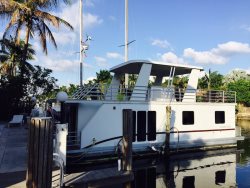 Beautifully Appointed 2 Bedroom Houseboat!
Have a boat or property you think would be a great fit with our program? Check out the FAQ's under our Info For Owners Tab and call us today 413-652-1400 or email [email protected]
Frequently Asked Questions
Are we allowed to drive the boats?

All of our boats are in-slip rentals, and can't be taken out. Many of our rental locations have charter services available in the same marina, and we can get you information regarding these services if you desire an excursion.


How safe is the location?

The boats are in very safe locations. There are gates for entrance, and a fully staffed office looking after the marina. Each boat can be secured while you are on board, or if you are away for the day. The parking is all in well lit and maintained lots.


Do I need to bring my car, and where do I park?
We recognize the hassle of traveling with a car within cities. We try to select marinas that are convenient for car-free exploring. Most of our locations are within walking distance to major tourist sites, and also have an abundance of public transportation options. If you do need to drive to the marina, we can provide you with information for finding a parking spot convenient to the marina and boat.


Do the boats have heat and air conditioning?


All of our boats have heat and air conditioning, and are comfortable even in the most inclement weather.


Do you allow pets?
Absolutely! Being dog owners ourselves, we know the hassle and expense of boarding can put a strain on your vacation planning. Bring your pet along, we would love to have them. There is a $75 pet fee that is applied to the rental rate.


What are the sleeping arrangements?
The configuration will be different on many of the boats, please check out the specifics on each properties listing page.


How many guests are allowed on board?
Overnight guests are limited to the number on your reservation, and the maximum allowed on the boat at any point is the overall capacity of the vessel. For the majority of our boats this number is 5-6. We ask that you refrain from inviting any additional guests aboard, or to the marina. We are guests in these marinas as well, and need to be a good neighbor to our fellow boaters. Small, quiet gatherings are OK. Loud parties are not. Please make sure to read our contract regarding expectations.
What time is Check-in/Check-out?
Check-in is after 3PM and Check-out is 11AM. We do ask that you follow these times as we need time to prepare the boat for the next guests. If you are in need of Early check-in/Late check-out please let us know. We may not be able to let you access or remain on the boat, but we can help you to make arrangements for luggage storage, etc...


What are the deposit/cancellation policies?
PAYMENT - An advance payment equal to 50% of the total is required when the reservation is confirmed. The balance is due one month before your arrival date. Please make payments in the form a credit card (Visa or Mastercard).
CANCELLATIONS - A sixty (60) day advance notice is required for a cancellation. Cancellations that are made more than sixty (60) days prior to the arrival date will incur a $100 administrative fee. Cancellations that are made within 60 days of the arrival date forfeit the full advance payment. Cancellations made within 30 days of the arrival date forfeit the entire amount paid to date including the deposit. Early departure does not warrant any refund of rent or deposit.
***If you encounter difficulties during your stay, you must contact us and allow us a reasonable time to respond and remedy if appropriate***

LODGING INSURANCE: We understand that special circumstances (i.e. weather related issues, flight cancellations, family emergencies etc.) may arise preventing you from making your booked reservation. For this reason, we highly recommend you purchase lodging insurance. Rock On Rentals offers lodging insurance at the additional cost of 7% of your total bill. This insurance must be purchased within 24 hours after you have made your lodging reservation and provides for a complete refund of all amounts paid towards a stay regardless of the cancellation timeline. The lodging insurance only covers the amounts paid to Rock On Rentals towards your lodging. In an effort to maximize availability for our customers on waiting lists this insurance expires at 3PM the day before your arrival.